Boundary

From the Rectory, along main road (Rue au Prêtre) and over the Camps du Moulin to the top of the Rue Jacque Guille, through the Ruette Rabey and down the Water Lane to Moulin Huet bay. From here by way of the cliffs to Fermain bay, up the lane, along the Route Sausmarez and back to the Rectory, taking in Les Blanches Pierre Lane. (Please view the map).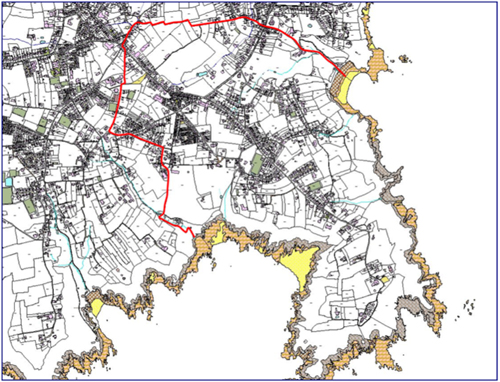 Abreuveurs
22
Ville Amphré
Fountain and drinking trough
 
23
Le Vallon (Fountain du Hurel)
Pump and drinking trough
The approach thereto must be kept in repair for the use of the public, by the Proprietor of La Vallon and his heirs, who also has in charge the maintenance of the Hurel hill. See 'actes' of the Royal Court, dated July 23 1828, March 24, 1829 and January 12,1832
24
Courtes Falaises
Fountain and drinking trough
 
 
Petit Port
Fountain on slipway
No longer in existence!
 
Jerbourg
Fountain Cocqerel, near gravel pits overlooking Petit Port
No longer in existence!
 
Jerbourg (La Moye)
Fountain
No longer in existence!
 
Jerbourg (Mont au Nord)
Fountain Ricquart
No longer in existence!
29
La Bouvée
Fountain and drinking trough
 
30
Calais (Gypsy lane)
Fountains and drinking troughs
 
31
Le Varclin
Fountain
And approach
32
Les Maindonnaux
Drinking trough
 
Other Property
 
 
Gate near the Cuckoo rock, one at the Courtes Falaises, and one at Le Mont Durand
 
Cliffs
Proprietors of land bordering the cliff must keep the walls in repair.

 

NOTE: – A seat near the Cuckoo rock, overlooking Moulin Huet bay, belongs to and is maintained by the Propietors of Le Vallon, who has also to keep in repair the roadway between the Cuckoo-rock gate and that at the Coutres Falaises.

Hire the Parish Hall!
Did you know that you can hire the Parish Hall for public and domestic functions such as a wedding reception or anniversary party?